The Kincade fire is 10 percent contained. The fire began on October 23, 2019, and for three days winds have sent flames hopping through the beautiful grasslands of the wine country. Attempting to prevent loss of life, fire departments ordered mandatory evacuations. Three of every five residents in Sonoma County have sought safety in shelters. The Sonoma County Fairgrounds, five blocks from my house, is one of the evacuation sites. Today, I walked over there to find out what, exactly, happens during an evacuation, but just for some perspective first, here are some statistics Tweeted out by NBC morning anchor Kira Klapper (@KiraKlapper)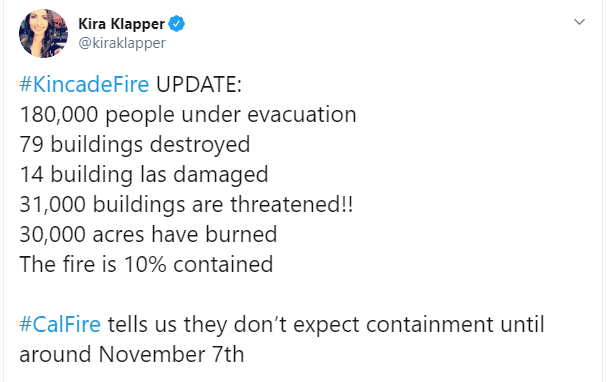 Sheltering at the Sonoma County Fairgrounds
The Sonoma County Fairgrounds is located near the intersection of Highway 101 and Highway 12. Because Sonoma County is agricultural, the Fairgrounds has facilities to house large animals. In the parking lot I saw many horse trailers, but when I walked back by the animal pens, I saw llamas, pigs, and couple of burros. The Fairgrounds was the first evacuation center set up for those fleeing the fire in Geyserville. It soon filled up as residents of Windsor and Healdsburg were ordered to leave.
The Veterans' Building: Filled to Capacity with Fire Evacuees
Normally on a Saturday, the parking lot of the Veterans' Building houses a farmers' market, but the fire has interrupted harvest season, and now, the Veterans' Building is where people come to charge their cell phones or get a cot for the night. The logistics of dealing with all the evacuees falls to the Red Cross.
Firefighters from around California Battle the Blaze
Fire crews have come from all over California to help battle the blaze. Prisoners, too, have been put to work for $1/hour, not a very good deal for them, considering the danger and strenuous nature of the work. Firefighters estimate the fire will not be contained until November 7.
So what caused this inferno? PG&E, the electric utility, claims that it's the unusual wind events, and indeed, last night was terrifying with winds from 70 to 90 miles an hour. What happens in such high winds is that the power lines swing, possibly leading to arcing. The arcing sets off fires in trees near the power lines. Today in Lafayette, just on the other side of San Pablo Bay, a completely different fire began because high winds caused a power pole to topple. Now, residents of Lafayette are fleeing the fire.
Facing the Unknown
It's now 7:30 pm, and the wind is picking up again. My neighbor's stepladder is banging and rattling against the garage (my writing space). The winds last night were so bad that I thought someone was breaking into my house, and throughout the night, my cell phone lit up with new Nixle alerts. That's the emergency warning system. Several times my phone sounded like a tornado siren. That was the signal for some community or other to evacuate, and the adrenaline rush, as well as the frequent alerts, made it impossible to sleep.
As the wind speed increases, I'm suddenly coughing. My throat burns. It's going to be another long night, I fear, and one of those times when a natural event strips away the illusion that we are in control of our lives. Welcome to the new normal.